Location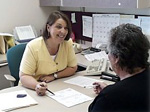 The Business Office is located on the main campus at Wythe County Community Hospital at 600 West Ridge Road, on the second floor at Patient Access/Registration.
Hours of Operation
8:30 a.m. - 5:00 p.m., Monday through Friday
Telephone Listing
Patient Financial Service Director (276)228-0205
Patient Counselor (276)228-0245
Revenue Cycle Specialist (276)228-0216
Insurance Billing:
Toll Free - 1-855-426--0148
Local Call - (276) 228-0214
How Your Hospital Bill is Determined
Your hospital bill is determined by the length of your stay, the type of room, and hospital services and medications ordered by your physician. The charges for the services of your physician, emergency room physician, consulting physician, and other professionals are not included in your hospital bill. These professionals will bill you separately.
Insurance Information
If you have health insurance, the hospital will file an insurance claim for you. Usually a claim is paid within 30 to 60 days after submission to the insurance company. In cases where there are two insurance companies to bill, the second insurance will be billed after the first insurance claim has been resolved.

The amount of the bill that you must pay will depend on your insurance policy.

Most major insurance companies require patients to pay a deductible that typically ranges between $100 and $500. After you pay the deductible, the insurance company usually pays a percentage of the costs of the hospitalization. You will be responsible for the remainder.
Insurance Companies WCCH Participation:
Aetna
Blue Cross
Cigna
Champus
Children's Specialty Services
Coventry
CNN/First Health
Healthkeepers - Trigon - Virginia (HMO)
Humana Gold
United Health Care
Medicare
Medicaid
PHCS (Private Health Care Systems)
QualChoice - VA (HMO)
Secure Horizon (HMO for Medicare)
Southern Health Services
Veterans
Virginia Health Network
Wausau
United Healthcare
Humana
Physicians on staff at WCCH may or may not participate in your insurance providers plan. If you need information about a specific physician on our staff please call 276-228-0205.
Your Hospital Bill
Every patient is entitled to receive a summary and itemization of their total charges or bill soon after they have been discharged. This bill is available upon request at no charge.

Followup statements each month will show charges, payments (insurance and personal), and adjustments.
Credit Policies
After your insurance pays, the balance is due in full.
If you have no insurance, your account is due in full on the date of service.

After you receive a statement, you must contact the patient accounts department within ten (10) working days.

FAILURE TO CONTACT THE PATIENT ACCOUNTS DEPARTMENT WITHIN THE SPECIFIED TIME PERIOD WILL RESULT IN FURTHER COLLECTION EFFORTS. If you are having financial difficulty, please call your patient counselor and make payment arrangements.

PAYMENT SCHEDULE (if approved)
Account Balance---------Minimum Payment (per account)
$25 - - - $300--------- $25.00 per month
$300 - - - $750-------- $65.00 per month
$750 - - - $150-------- $125.00 per month
$1501 - - Up -------- $125.00 per month or(2-year maximum)
$10,000 –Up ----(2-year maximum)Balance divided by 24 mos.
For payment in full, there will be a 20% discount for accounts paid within 3 days of date of service.
When a CRNA provides anesthesia service in collaboration with an anesthesiologist, separate physician and CRNA claims will be billed to your insurance carrier. It is the patient's responsibility to inquire about their insurance coverage, and accept financial responsibility for any portion not covered by their medical insurance. Medicaid and SLH eligibility assistance services are available (CarePayment). The MAP program is also available through CarePayment.
Charity Guidelines
Wythe County Community Hospital recognizes its obligations to the community and stands ready to accept indigent and charity patients. Wythe County Community Hospital follows the Virginia Indigent Health Care Trust Fund Program Guide for determining eligibility. The Federal Poverty Guidelines are published in February of each year and are effective for Trust Fund purposes on March 1.

To qualify for charity care consideration; the patient must apply for all entitlement programs accepted by the hospital for which he or she is eligible.
Financial Assistance Application
The determination of eligibility for charity care is made on the basis of financial information supplied by the individual. WCCH will consider all income, equity in real property, the Federal Poverty Guidelines, and other pertinent factors to determine how much, in the sole judgment of WCCH, a patient is reasonably able to pay.
All patients who are able will be expected to pay for their own health care services to avoid shifting the burden for their care to other patients and the general public.

The guarantor must submit financial information about himself/herself and all legal dependents by completing a Financial Needs Assessment Questionnaire (FNAQ). These applications are available at all Patient Access areas and in Patient Accounting. An application for charity care may be submitted prior to or upon admission or at any time during the billing process. However, re-qualification must be made every three months. The guarantor must request each service to be considered in the approval process, including individual dependent names, with exception to those accounts located within MAP, SCA Credit Services, and any accounts in Collection are excluded from the process. When a patient counselor determines that an account is not collectible because the responsible party is medically indigent, he/she will obtain a signed application with verification of income. After the application is obtained and bears out the indigence, then the patient counselor will recommend that the balance or a portion of the balance of the account be transferred to a Charity account set up by the hospital.

The Director of Business Office Services will review all of the data and if he/she agrees, then the account will be sent back to the patient counselor for processing. The responsible party will then be notified of the determination of eligibility within two working days of the approval.

All medically necessary Wythe County Community Hospital charges are covered under the WCCH Charity Care Policy. Services that are not covered under the WCCH Charity Care Policy are Physicians' fees, and all procedures considered to be elective.

The following guidelines are used to determine eligibility for financial assistance (Virginia Indigent Health Care Trust Fund)
POVERTY GUIDELINES FOR ALL STATES
Indigent/Charity Guidelines for 2022 – Published January 12, 2022
(48 Contiguous States and District of Columbia)
48 Contiguous States & DC Family Size
Federal Poverty Level
150% Poverty Level
0 - 200% Poverty Level
201 - 250% Poverty Level
251 - 300% Poverty Level
301 - 350% Poverty Level
351 - 400% Poverty Level
1
$13,590
$20,385
$27,180
$33,975
$40,770
$47,565
$54,360
2
$18,310
$27,465
$36,620
$45,775
$54,930
$64,085
$73,240
3
$23,030
$34,545
$46,060
$57,575
$69,090
$80,605
$92,120
4
$27,750
$41,625
$55,500
$69,375
$83,250
$97,125
$111,000
5
$32,470
$48,705
$64,940
$81,175
$97,410
$113,645
$129,880
6
$37,190
$55,785
$74,380
$92,975
$111,570
$130,165
$148,760
7
$41,910
$62,865
$83,820
$104,775
$125,730
$146,685
$167,640
8
$46,630
$69,540
$93,260
$116,575
$139,890
$163,205
$186,520
For family units with more than 8 members, add $4,720 for each additional member to meet the poverty level.
To apply, please bring verification of all household income. The fee schedule for Wythe County Community Hospital is approved by the Virginia Rate Review and is available upon request.