Get Directions
600 West Ridge Road
Wytheville, VA 24382
Get Directions
Hours
Open 24 hours
Emergency Room - 24/7 Care
Health issues don't take nights and weekends off. Our quality care and treatment don't either.
Call 9-1-1 if you or a loved one is experiencing a medical emergency.
Next Steps
For Emergencies
Call 9-1-1 if you or a loved one is experiencing a medical emergency.
Dial 9-1-1
About our Emergency Room Services
At Wythe County Community Hospital, our Emergency Room (ER) team is staffed 24/7 with emergency physicians, nurses, and staff who are trained in providing emergency care. Our team combines advanced training with compassionate service to be ready for you or your family when you need it the most.
What to Expect in our ER
As a patient, you will be cared for by staff trained to respond to any type of medical emergency. We understand a visit to the ER can be a very stressful time; therefore, you should expect us to communicate with you and guide you through your situation. You should always ask questions if you do not understand.
Accredited Chest Pain Center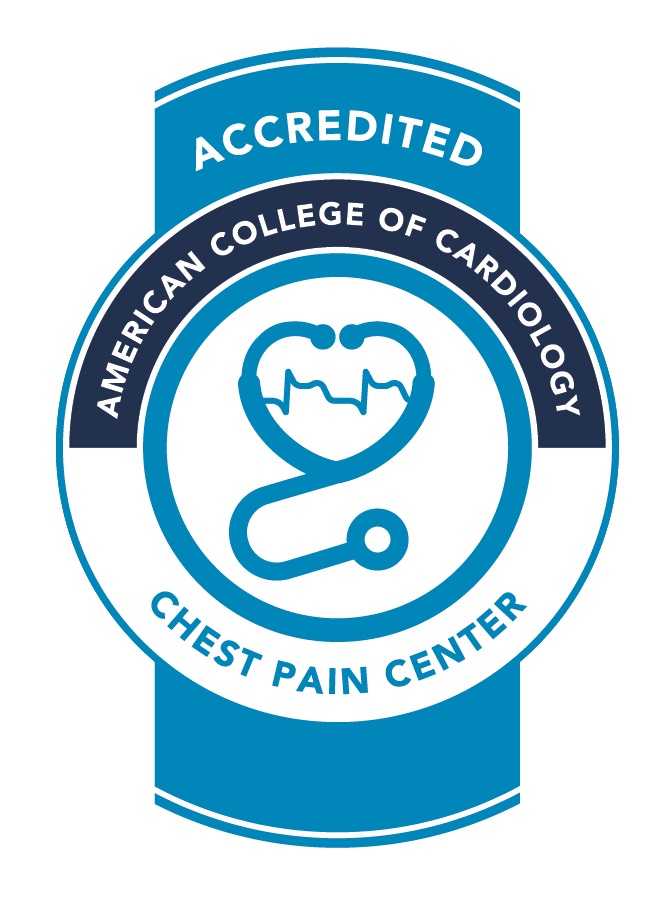 The national recognition we've earned demonstrates our staff's commitment to providing the highest quality of care including:
American College of Cardiology Chest Pain Center Accreditation
Wythe County Community Hospital received Chest Pain Center accreditation from the American College of Cardiology. We are dedicated to providing our patients with the best heart care treatment available. As an accredited facility, we use the newest methods and best practices in heart care to ensure that our patients receive:
Right care at the right time to minimize or eliminate heart damage due to heart attack
Timely and accurate diagnoses to reduce the disruption to your life and get you back home as soon as possible
Help and communication to better understand how to respond to your heart emergencies
Improved quality of life after a heart episode
​To learn more about the signs and symptoms of a heart attack CLICK HERE.
When is it an Emergency?
It can be confusing sometimes to decide when your medical condition warrants a trip to the emergency room. Some examples of major illness or injury which constitute a trip to the emergency department are:
Breathing problems
Change in mental status (such as confusion or difficulty walking or unusual behavior)
Chest pain or upper abdominal pain or pressure
Continuous bleeding
Coughing up or vomiting blood
Fainting
Heart problems
Poisoning or drug overdose
Severe burns, cuts, punctures or bites
Severe or persistent vomiting
Sudden dizziness, weakness or change in vision
When in doubt, come immediately to the emergency room.
Triage
When you enter the emergency room, the first step will be triage. Triage is a process that makes sure that patients with the most serious needs are treated first. The emergency room is unable to treat patients on a first-come, first served basis, so please be patient. The triage nurse will ask about your symptoms, take your vital signs and ask for a short medical history. The nurse will then classify patients according to need:
Emergent- patients who have a life-threatening illness or injury
Urgent - patients who are in stable condition, but need help as soon as possible
Non-urgent - patients who have minor problems or chronic complaints
Waiting in the Emergency Department Lobby
Unless your situation is critical, you may experience a wait time. Some reasons for your wait may include:
Other patients require immediate treatment,
Beds or treatment rooms need to be prepared,
Ambulances may have brought in more critical patients.
If your condition changes while you are waiting, please notify the nurse or registration clerk immediately.

If you brought a loved one or family member to the emergency room, you may be separated from the patient. This may happen if he or she urgently needs treatment, needs tests performed, or the emergency area is too congested to safely care for patients. Emergency staff will keep you informed should this happen, but please feel free to ask any questions.

The goal of the emergency room is to see patients as quickly as possible. Sometimes long waits are unavoidable. If you feel your wait is excessive, please ask the nurse for assistance.