EXTRAORDINARY NURSE RECOGNIZED AT WYTHE COUNTY COMMUNITY HOSPITAL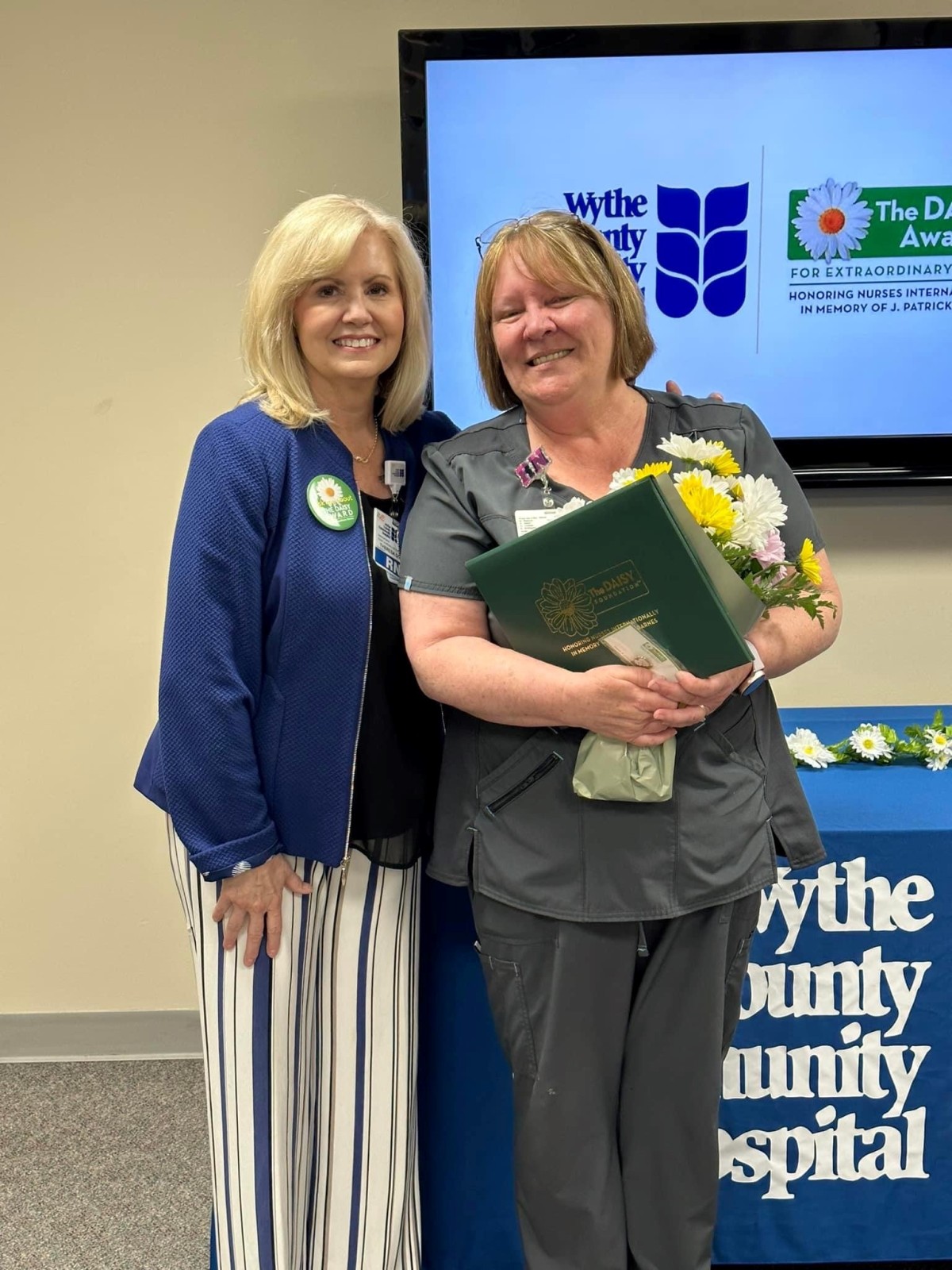 Candace Rash Horton, RN of Wythe County Community Hospital (WCCH) was recently honored with The DAISY Award® For Extraordinary Nurses. The award is part of the DAISY Foundation's programs to recognize the super-human efforts nurses perform every day.
The nomination submitted told a story about a patient who was 85 years old and in good health until a recent onset of atrial fibrillation put her in the intensive care unit at WCCH. The patient was very scared and despite the fact that she had family close by, the fear about this new diagnosis was real. Candace was aware of this from the moment the patient entered into her care and she went to work right away in helping the patient and the family feel less anxious about the diagnosis. Candace displayed empathy and helped the patient through this journey all the while allowing her the freedom to sit in her chair, use the phone to call her family and helped her with her meals. Candace communicated with the family as requested and made the patient feel like the only patient in the unit. During the discharge process, she continued to be the patients advocate, asking all the right questions and making sure the patient was ready to go home.
"Candace was recognized by this patient and family for her dedication and compassion shown to them during an illness," said Theresa Dix, Chief Nursing Officer of Wythe County Community Hospital. "I am so honored to be able to present this award to Candace. She is an excellent nurse, mentor and co-worker to all. Patients and families will always experience her remarkable skill and care when she is their nurse."
The not-for-profit DAISY Foundation was established by family members in memory of J. Patrick Barnes. Patrick died at the age of 33 in late 1999 from complications of Idiopathic Thrombocytopenic Purpura (ITP), a little known but not uncommon auto-immune disease. The care Patrick and his family received from nurses while he was ill inspired this unique means of thanking nurses for making a profound difference in the lives of their patients and patient families.
Said Bonnie Barnes, FAAN, Doctor of Humane Letters (h.c) and Co-Founder of The DAISY Foundation, "When Patrick was critically ill, our family experienced first-hand the remarkable skill and care nurses provide patients every day and night. Yet these unsung heroes are seldom recognized for the super-human work they do. The kind of work the nurses at Wythe County Community Hospital are called on to do every day epitomizes the purpose of The DAISY Award."
For a complete listing of healthcare organizations currently running the program, please go to http://DAISYfoundation.org
In addition to the DAISY Award for Extraordinary Nurses, the Foundation expresses gratitude to the nursing profession internationally in over 5,500 healthcare facilities and schools of nursing with recognition of Nurse-led Teams, Nurse Leaders, Nurses Advancing Health Equity, Nursing Faculty, Nursing Students, Lifetime Achievement in Nursing and through the J. Patrick Barnes Grants for Nursing Research and Evidence-Based Practice Projects, Medical Mission Grants and their new Health Equity Grant programs. More information is available at http://DAISYfoundation.org
Pictured: Theresa Dix, CNO and Candace Rash Horton, RN
Read All Posts